5 Tips for a Fresher
Home with Cats
with Martha Stewart
How does Martha Stewart keep her home impeccable while keeping her cats happy? Here's five tips from the lifestyle queen herself!
Tip 1
No, your cat doesn't need to potty outside! Get a litter box that's spacious enough for them to use comfortably and place it in a location that is easily accessible, but private.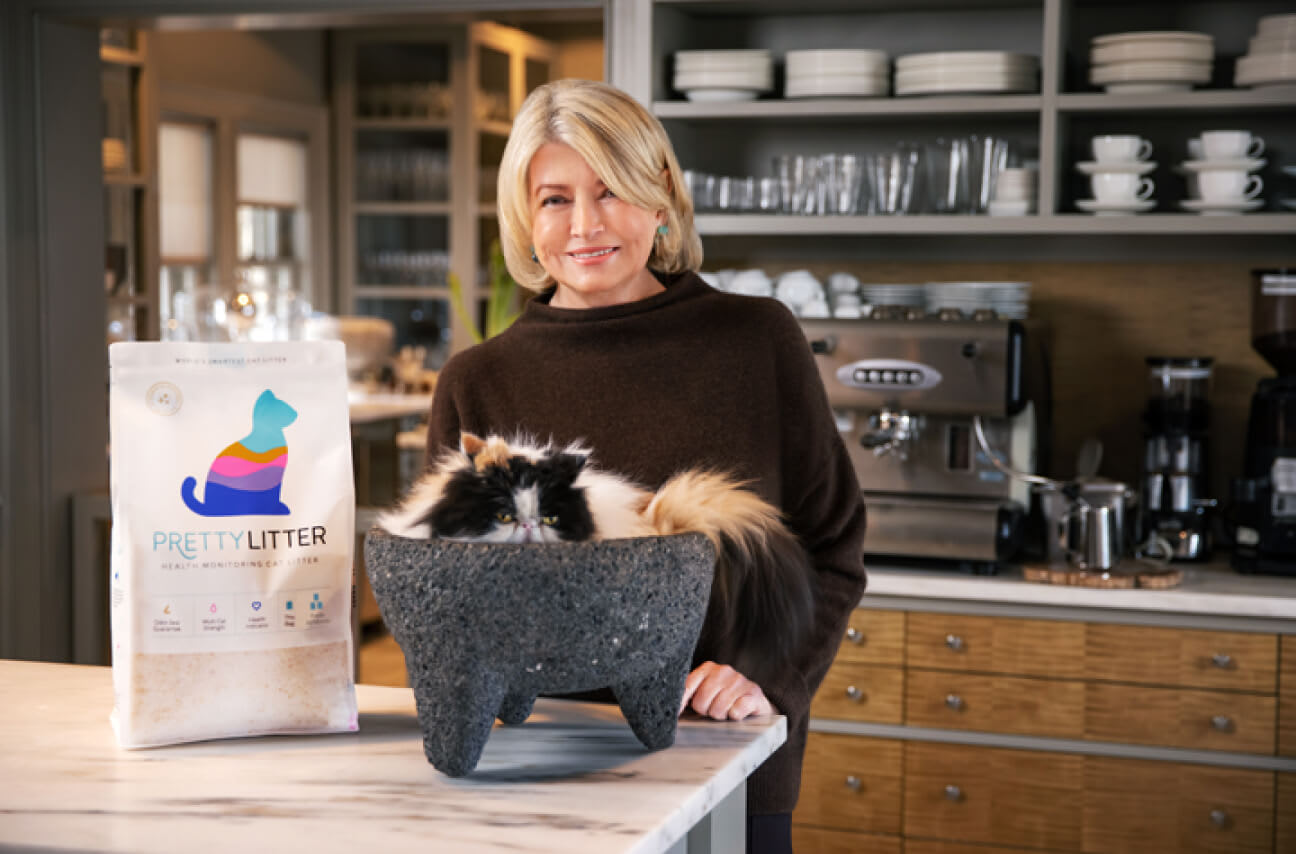 Tip 2
Upgrade that litter box with PrettyLitter! Litter boxes don't have to be ugly. PrettyLitter's beautiful crystals are superbly pleasant on the eyes. It even changes colors to help monitor your cat's health!
Tip 3
PrettyLitter's crystals have millions of micro-pores that absorb moisture and trap odor, keeping the air in your home as fresh as Martha's garden while being safe for you and your cat.
"My secret to a clean and
serene litter box? I fill mine
with PrettyLitter."
Martha Stewart
Tip 4
Keep the litter box fresh and give your cat a nice clean place to go all month long. Simply scoop the poop once a day and stir the litter to avoid saturation.
Tip 5
Keep your cat healthy! A healthy diet leads to healthier urine and poop, contributing to a cleaner smelling home. Try the premium cat food, PrettyPlease, and monitor your cat's health with PrettyLitter!
Elevate Your Litter Experience
Try today for 20% Off and see why cats (and cat parents) are obsessed with the magical odor control of PrettyLitter.
Get Started Today
Use Code MARTHA20 at Checkout for 20% Off
Why is PrettyLitter
Better?
Advanced Odor Control
Our super absorbent silica gel litter eliminates smells.
Ultralight & Delivered Free*
Stop hauling a giant bag of litter home from the store.
Monitor Your Cat's Health
Crystals change color to help detect early signs of illness.
Try PrettyLitter Today
Use Code MARTHA20 at Checkout for 20% Off
Try PrettyLitter
Risk-Free for 30 Days
Don't like the litter? You can return your unused product within 30 days and we'll issue a full refund.
Get Started