March 3, 2021 |9 min read |Veterinarian Reviewed
What Are the Different Types of Cat Litter?
Litterbox technology has come a long way since the early days of stinky, dirty litter. Today, there are many options to choose from including health monitoring cat litter, depending on your preferences (and, more importantly, your kitty's preferences!). 
Whether you're in a small space and need a litter that traps odors like no other or are looking for a natural, biodegradable cat litter option there is a litter for every pet parent.
Here, let's first explain what to look for in a litter to help you find the perfect choice. Then, we will explain some of the most popular types of cat litter to choose from.
What Should You Look For When Buying A Litter?
Before you look at all the different types of kitty litter, you should first consider all the factors that go into finding the perfect litter. Here are some things to consider:
1. Odor Control
Of course, the most important thing to look for in a cat litter box is odor control! As much as we love our furry friends, nothing is worse than a smelly litter box. Odor control is also important for your cat's health, as well. The litterbox should be inviting and if it's stinky, your cat might not want to go.
2. Strong Clumping
Not everyone prefers a clumping litter but if you do, you should make sure that the clumps really clump well! If not, your clumps will fall apart and the litter will end up being dirtier than before. If you choose a non clumping cat litter instead, you will probably only scoop out solid waste and mix in the urine.
3. Low Dust
Some litters are dustier than others, which means that that dust gets in your home, on the floor, and can bother your kitty. In fact, some dusty litters may even cause your cat to have allergies. Look for a low-dust option to avoid this.
4. Low Tracking
Some types of cat litter track more than others, meaning that the granules get stuck to your cat's paws and get trailed around the house. There are a few ways to prevent this, such as getting a litter mat, but if tracking becomes a problem, you may want to consider other types of litter.
5. Granule Size
Kitty litter comes in all kinds of granule sizes, from large pellets to tiny crystals. Some cats prefer larger granules and some a more sand-like texture with smaller granules.
6. Cost
Of course, the cost is a factor when choosing what type of cat litter you want to use. Some of the newer versions, like litters made from natural ingredients like walnut litter or pine cat litter, might be more expensive than other options. 
And remember, the actual cost of the litter goes beyond just how much a bag is. If you have to change a cheaper litter out every week, it could end up being more expensive than a litter that works for a month or more.
Now that you know what to look for in your next litter, let's look at the different types of litter and their pros and cons.
Any cat owner would know that what is just as important as picking the right cat food is picking the right cat litter. From clumping litter, paper litter, pine litter, and crystal litter – it seems like every day, there's a new litter type on the market. But which one should you choose? Let's look at four common types of litter, including their pros and cons.
4 Different Types of Litter
It seems like every day, there's a new litter type on the market. But which one should you choose? Let's look at four different types of litter, including their pros and cons.
1. Clay Litter
Clay litter is the traditional litter and has been around for ages. It's what people usually buy when they first get a new cat because it's the one that has been advertised the most. Some popular clay cat litter brands include Dr. Elsey's, Scoop Away, Fresh Step, and Tidy Cats.
Because clay cat litter has been around for so long, there are so many varieties of this classic. You can get both clumping and non-clumping clay litter, as well as different scents. There are litters formulated for multiple cats and different options in scents, granule size, weight, and cost.
Pros
Affordable

Lots of Options
Cons
Dusty

Not environmentally-friendly

Tracks around the house

Heavy
2. Silica Litter
Silica gel litter is also a popular choice and is getting more popular for cat owners as technology advances. Crystal kitty litter is a non-clumping litter option and works by trapping litter box odor into the crystals. This way, you only have to scoop out the solid waste.
In addition, you may notice less tracking with crystal litter. This is because the granules are so small they don't stick to your cat's paws. It's also extremely low-dust, making it a great option for families with respiratory issues. Crystal litter needs to be changed every month because the urine waste gets mixed in. Some of the most common crystal litter brands include Ultra Pet, Fresh Step, and, of course, Pretty Litter.
Pros
Can scoop less

Soft on even sensitive cat feet

Lightweight

Lasts a long time
Cons
More expensive

Non-clumping (some cat owners might not like mixing the urine waste into the litter itself)
3. Pellet Litter
Pellet litter is litter in the shape of larger pellets and can be made out of different ingredients. This litter doesn't track around the house because the pellets are so large, and they can easily just be swept up. It's also a low-dust option. But, some cats might have a hard time adjusting to pellet litter because it's not as soft on their feet. You want to make the litterbox as inviting as possible, so if your cat doesn't like a certain type of litter, you may have to keep shopping.
Pros
Environmentally-friendly

Low tracking

Low dust
Cons
Not as soft on your cat's feet

Not as strong odor control
4. Natural Litter
Recently, the rise of natural cat litter has skyrocketed. Today, there are countless types of natural cat litter, including ones made out of corn, walnut, wheat, pine, and paper cat litter. The good thing about these litter options is that sometimes, you can flush them right down the toilet. This saves the need to throw away your cat's waste around the house. In addition, most of these litter options are biodegradable, making them a great choice for the green cat owner!
Pros
Environmentally-friendly/biodegradable cat litter

Natural odor-fighting abilities

Lightweight
Cons
More expensive

Some cats might not like the texture/smell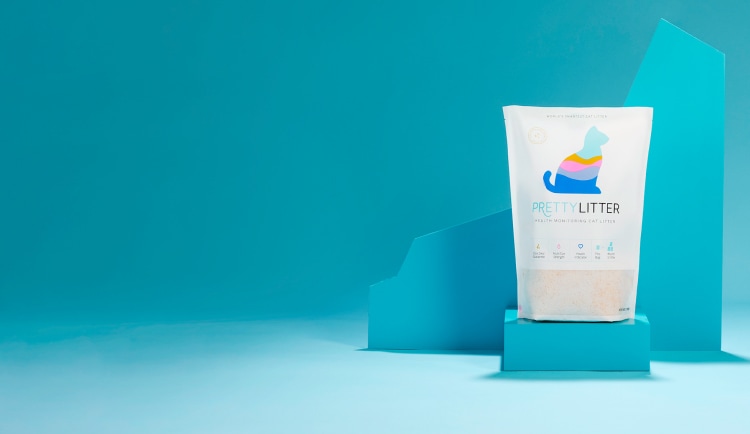 Tired of your
home smelling like
you have a cat?
Use code PRETTYBLOG
Which Type of Litter is Right for You?
As you can see, there are many litter options (and even more that we didn't list here!), so finding the world's best cat litter for your needs and your kitty's needs might take some experimenting. While most people initially gravitate towards clumping clay litter, there are other choices you may want to consider. For example, if you love the clumping powers of clay litter but want a green option, natural litter might be for you. Or, if you don't feel like scooping as much out of the cat litter box and want dust-free cat litter in your home, silica gel litter might be a better bet.
When choosing a litter, you also have to consider which one your cat prefers. Some cats don't mind the larger granules of a pellet litter, while some cats can't use those kinds and prefer the super-soft texture of crystal cat litter. Regardless of which litter your cat prefers, remember to pour them in an adequately sized litter tray, find the best place to put litter box, and regularly throw out soiled litter. If your cat makes a messy litter box, you might also have to train him or her.
Finding the perfect litter for you and your kitty may take a little trial and error, but you both will be happy when you find the perfect one. Have questions about which litter is right for you and your cat? Contact us here at Pretty Litter and we would be happy to help!