November 30, 2018 |5 min read
The Benefits of a Cat Litter Cabinet
We know that there are many things for pet owners to consider when raising a feline, and a cat litter cabinet is one investment that can make your home and your cat life even more enjoyable! Cats make wonderful companions but sometimes it's tricky to find a great way to deal with the odor and mess of their litter box. Cats are just like the rest of us - they need to go and they need a place to go! Litter boxes don't have to be smelly, unsightly messes. Here are some of the benefits of having a cat litter cabinet in your home.


What Is a Cat Litter Cabinet
A cat litter cabinet is like a small house for your litter box. Instead of just being a flat box with litter in it, it is designed with a top or is a standalone cabinet with an opening for the cat to crawl in and out of and a door that opens to allow you to remove the box for easy litter scooping and changing. You can think of it like a dog house but a place where the kitty doesn't hang out or sleep - just a place to use the bathroom!


---
Cat Litter That Prioritizes Their
Health & Your Happiness.
Get 20% + a Free Toy
Use Code PRETTYBLOG at Checkout
for 20% Off + a FREE Catnip Toy
---
Conceal the Mess
The number one benefit of a cat litter cabinet is to hide the mess of the litter box! Many people have clever spots to tuck away the litter box, like a bathroom or laundry room, but sometimes there is not enough room or no convenient space to hide it away. There's no reason you have to have a big box of cat litter out in the open in any room. A cat litter cabinet lets you keep the litter box behind closed doors so it doesn't look messy.


Hide the Smell
Another benefit of a cat litter box is that it keeps the smell of the litter under wraps. If you scoop litter regularly, which we all should, litter boxes shouldn't smell too bad, but it's also never pleasant to have anyone's toilet right out in the middle of a room! Investing in a cat litter box is a good way to prevent the smell of the box from permeating the whole room.


Extra Decor
Cat litter boxes can also make wonderful decor in any room. They come in all kinds of cool and funky designs that make interesting additions to any rooms, including living rooms, family rooms, bathrooms or bedrooms - wherever is convenient for you to keep it. Some double as side tables or bathroom stands and you can pick a color and style that match whatever room you choose.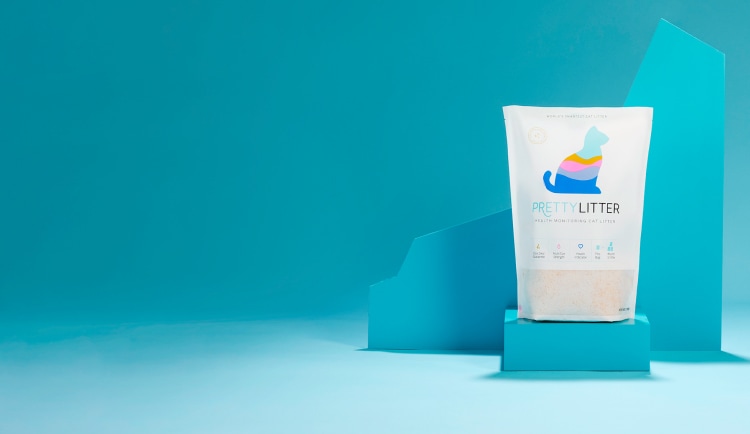 Tired of your
home smelling like
you have a cat?
Use code PRETTYBLOG
Privacy for Your Cat
Cats like a litter box that is in a quiet space and gives them a little privacy. However, they don't like to be boxed in completely. Having a cat litter cabinet means a space where a cat can retreat to in peace but also be able to see out through the opening to be able to see and hear other people or animals and not feel trapped.
Cats, like the rest of us, need a good place to go when they have to go! You have to keep a litter box in your home somewhere so a cat litter box is a great way to make sure it is both attractive and hides the sight and smell of the litter. It also gives your cat a cozy and private place to go to the bathroom! Do you use a cat litter cabinet in your home?
----
Don't forget to follow us on Instagram: @prettylittercats
----
Delivered straight to your front door, every month. We'll even pay your shipping.
For a limited time only, get 20% off your first PrettyLitter order. Enter code "LOVE20" at checkout. Redeem Now!