PrettyLitter : An Honest Review By M. Ashley Evans
It was time to buy new cat litter.  I was a huge fan of Scoop Away and had used it for years. I would get so many compliments – "I didn't even know you had a cat! I can't smell cat litter at all!" It truly was a joy to hear. No matter how clean someone's house is, there is always that… ick factor when you smell soiled cat litter. I was a HUGE fan of Scoop Away. I would tell people in the cat litter aisle about how well it worked. I told all my cat owning friends and family to switch to Scoop Away because they wouldn't be disappointed.



And then it happened.
The bright sticker on the Costco sized package of cat litter "Now LOW DUST!"
My heart sank. They had changed the formula.
Sure enough, Scoop Away, Multi-Cat, Scented had let me down. My house smelled gross. Sure, it still clumped well, and it was nice not having all the dust – but the most important factor in cat litter to me is the odor control.   Desperate, I purchased a new cat box, scrubbed the floor where the cat box sat with enzyme sprays, and even gave Biscuit a bath (much to her disgust.) But it didn't help.


Biscuit is a rather sensitive cat.  She gets very defensive and territorial to any change (read: will leave a territorial signpost dropping outside the box) so I had to be cautious. I tried Scoop Away Complete and it too was a disappointment in trapping the odor.
Fresh Step Multicat Extreme was similar in color and grain shape so I hoped it wouldn't be too big of a change for Biscuit. But it too was a disappointment. It didn't clump as well and the odor control was much worse than Scoop Away. I tried adding in the Arm and Hammer deodorizer – it smelled lovely at first… but then, the vile odor of cat fees and urine just mingled with the faux floral scent for a rather decrepit combination. Tidy Cat clumped better than Fresh Step but it too just couldn't tackle the odor.  I really liked what I read about Worlds Best Cat Litter, but it was quite possibly the worst one of the bunch – and Biscuit was not very happy with how starkly different the litter was texturally.
Biscuit's litter box is in my office. I spend a lot of time in there. It's the only room I can keep a baby gate up to ensure my toddlers don't try to play in the *sand* box. I had to find a solution. So during my desperate search, I saw an ad for  PrettyLitter. I was very hesitant – it didn't look much like the beloved old scoop away, and I was concerned that the color changing pellets would send Biscuit into a nervous state – but it has worked out quite well.
I started out by pouring a fresh box of half Scoop Away and half Pretty Litter – to ease the transition for my sensitive cat. And a week later, I gave her a fresh box of only PrettyLitter.  She didn't display any signs of distress. She doesn't seem to notice any difference in her litter at all.


After two weeks with the litter and removing the clumps daily, it still works great. It clumps very well with both solids and liquids. To my great relief, and downright amazement – there is no odor at all. None. Not the stench of soiled litter or of the nauseating added scents so many other litters had.
Over the weekend, I decided to put this new gem of a litter to the test. My family went out of town for the long weekend. That meant three days of not removing the soiled clumps. But I was hopeful! When we got home, there wasn't a wave of stench greeting me at the door. I did notice a slight odor when I hovered over the box – but after that many days of not removing the clumps it was quite remarkable. I am thrilled with PrettyLitter!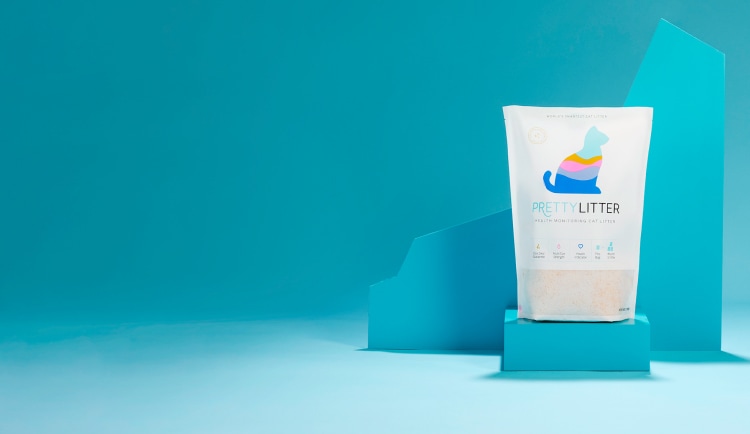 Tired of your
home smelling like
you have a cat?
Use code PRETTYBLOG