December 6, 2021 |9 min read
Pet Hurricane Safety Tips
Hurricanes are a scary weather condition for humans and they are just as scary, if not more so, for your cat. Knowing how to take care of your pets during a hurricane (or any extreme weather disaster) will help keep them safe. 
Here, we want to share some of our top hurricane pet safety tips so you can be prepared in case disaster strikes. 
8 Hurricane Pet Safety Tips
There's no such thing as being too prepared, which is why we've compiled this list of hurricane safety tips for you and your pet. Even if you live somewhere that doesn't usually have hurricanes, these tips are great for other natural disasters, including earthquakes, wildfires, tsunamis, tornados, and more. They will help keep both you and your cat safe and offer your pet shelter.
Here are some of our top hurricane pet safety tips:
Have a Hurricane Emergency Plan
The first thing you should do is prepare a hurricane emergency plan, even before there's any threat of a hurricane or evacuation. Having an action evacuation plan will help ensure that all family members know what to do if a hurricane hits. 
This action plan should include where to go if there is an emergency, where to find supplies when needed, and what to do with your cat if there is a hurricane. Your hurricane action plan should be easily accessible for everyone in your household so you'll quickly be able to find everything you need in an emergency.
Build Your Own Pet Emergency Kit
Like your hurricane emergency plan, the best thing to create is a pet emergency kit before you need it. Sit down with your family and your vet to determine everything you should include in your pet emergency kit. 
Here are some suggestions about what to include for hurricane preparedness:
Clean drinking water and Non-perishable dry food and canned food (enough to last a week or so)

Food and water dishes

Your cat's vet records

Your cat's proof of vaccination

Any prescription medicine if needed

A hard shell cat carrier

Recent photos of your cats

A collar or ID tag to put on both your cat and their pet carrier

Cat litter and a litter box (you can look for a collapsible one to save space)

Litter bags

Something to comfort your cat, such as toys or treats

Pet first aid kit
All of these supplies should be packed and ready to go in the case of an emergency. You likely won't have time to gather all your pet emergency supplies in the moment, so being prepared could potentially save not just your life, but also your cat's life.
Have a Pet Emergency Sticker on Your Door
During an emergency, you should always take your cat with you. But, it's a good idea to have a pet emergency sticker in the front of your house in case you need to be rescued and your cat ends up trapped in your home. These stickers include your cat's name, how many pets you have in your home, and an emergency contact number you can put down. This could be your vet, a trusted family member or friend, or the local humane society. 
In addition to the pet emergency stickers, you can also put a pet emergency card in your wallet with all of this information. That way, even if you're out and about with your cats, if something happens, emergency personnel will know more information about your pets. 
Keep Your Cat Up-to-Date on Their Vaccinations and Medications
Staying current on your cat's vaccinations is a great tip for healthy, happy kitties anyway, but this is even more important in the case of an emergency. If there's a hurricane, you might not know where you're going to end up, which could mean that your cat is exposed to more animals, new surroundings, and new humans. 
After a hurricane, there is a ton of bacteria in puddles and floodwaters and your cat could potentially contract viruses such as rabies, distemper, and more. Not only do vaccinations help keep your cat healthy, but some pet-friendly shelters and hotels won't take you and your pet in unless you can prove that they are fully vaccinated.
In addition to keeping up-to-date on your cat's vaccines, make sure to also give them their flea, tick, and heartworm medications regularly. After a hurricane or flood, there can be an increase in mosquito colonies and mosquitoes can spread things like heartworm. Heartworm is a super scary and potentially deadly disease for cats. 
Assign a Designated Caregiver
Our next hurricane pet safety tip is to assign a designated caregiver for your cat in the case of an emergency. Ideally, you would bring your cats with you but sometimes this isn't possible or isn't the safest option for you or your pet. In that case, it's important to have a designated caregiver that can care for your pets if you're unable to. This could be a friend, family member, cat sitter, or vet if you are able to contact them during an emergency. 
Take Evacuation Warnings Seriously
Although the hurricane reminders that blast out on TV may seem intense, it's important to take them seriously and be prepared. Continue to watch the news and listen for any hurricane evacuation warnings in your area. Make sure you have emergency phone notifications turned on. 
In addition to watching the news and monitoring your phone's notifications, you can also download the free FEMA app, which provides hurricane pet safety tips, a shelter locator, and alerts from the National Weather Service as things change. 
Microchip Your Cat
Microchipping is a quick way to retrieve the location of your pets. If this is not something you feel comfortable with, place a name tag on their collar, including your name, address, and telephone number. 
Always make sure that the contact info on your pet's microchip is up-to-date, especially if you move or get a new telephone number. 
Secure Your Cat
Our last hurricane pet safety tip is to secure your cat when transporting them during an emergency properly. Hardshell cat carriers are the best since they are the most durable, but a soft pet carrier will work as well. Make sure the carrier is big enough for your cat to be able to move around, but not too big that they can hurt themselves. 
In addition to the carrier, many pet parents put their cat on a leash in the carrier in case they get out and try to escape. Remember, even if your cat isn't a runner, they will act differently in an emergency. Because of this, it's important to keep them in the carrier at all times and further secure them with a leash or harness.
---
Cat Litter That Prioritizes Their
Health & Your Happiness.
Get 20% + a Free Toy
Use Code PRETTYBLOG at Checkout
for 20% Off + a FREE Catnip Toy
---
Other Hurricane Safety Tips for Pet Owners
These 8 hurricane pet safety tips are designed to help you evacuate with your pet safely and provide guidance on what to do after you evacuate.
Here are some more quick tips to keep your furry friend safe in the case of a hurricane or other natural disaster:
Keep your cat in their carrier

Research pet-friendly emergency shelters near you. You can contact your local emergency service or humane society for that information.

If you can't find a pet-friendly emergency shelter, you may be able to stay at a pet-friendly hotel during an emergency.

Store at least 2 different veterinary clinics in your phone and one emergency 24-hour vet in case your primary vet isn't available at the time of an emergency

Stay calm. Your cat can sense your emotions and is going to feed off how you're acting. If you remain calm, you will put your cat at ease. 

Ask your vet about how to calm down a cat with anxiety during a storm or include anti-anxiety supplements or mild sedatives in your pet emergency kit
No one likes to think of a disaster striking, but the best time to be prepared for an emergency is before the emergency happens. These tips will help you prepare all of your supplies for your cat if a hurricane hits and will help keep you and your kitty safe.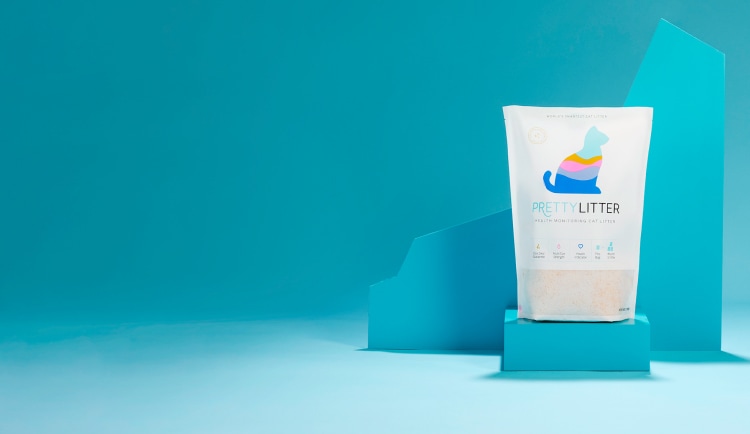 Tired of your
home smelling like
you have a cat?
Use code PRETTYBLOG