May Cool Cat of the Month: Meet Reggae!
---
Cat Litter That Prioritizes Their
Health & Your Happiness.
Get 20% + a Free Toy
Use Code PRETTYBLOG at Checkout
for 20% Off + a FREE Catnip Toy
---
We talked to PrettyLitter subscriber Darcy J. about Reggae and here's what she had to say:
Reggae and I were destined for each other. I knew I wanted a cat. I had for a long time, and with the Covid craziness, it was finally the perfect time. It had to be a rescue cat - I wanted to give love to a little furry misfit. So, with the local shelter holding online adoptions, I had to choose from photos of various kitties. This little black and white face stared at me from the screen, and so he was my first choice. But as my appointment day grew near, I was informed that my little first choice was already adopted. So I had to make another choice. But then, I was contacted the day before my visit to the shelter and told my first choice kitty had been returned (poor baby!!) due to other pet conflicts in the household that had taken him home. How stressful that had to be for this little guy! But it was fate, because when I showed up, this sweet little fur ball purred when I reached for him. My heart melted, and this four month old love bug chose me to come home with.
I had my place all ready for him - PrettyLitter and all - which came highly recommended by my neighbor. The best kitty litter EVER! I never have to worry about odor. Since my life's all about music (musician, music teacher, mixing engineer and producer, songwriter, worship leader, etc.) I knew I had to give my new little friend a musical name. I was working on a project that had a Bob Marley song, and the name Reggae popped into my head, and it stuck. Reggae sits in my studio with me when I am working on music, and never seems to mind how loudly I play my mixes. He just sleeps away no matter what genre emits from my monitors. I can sit with my guitar and he seems to listen to my playing with a satisfying expression on his pink-nosed face. He is not a critic. 
I love to spoil Reggae. He has his own computer to watch bird videos, and since he is strictly an indoor kitty, he has window perches and plenty of "front door time" to sit and watch the outside world - as well as catch any insect intruders that may try to enter. He isn't a lap cat, but he is a snuggle and play-fetch-with-me buddy that has captured me and filled that little hole in my life that needed filling. I hope he feels the same about me.
One Fun Fact About Me:
Reggae loves it when I play my guitar...especially when I play Bob Marley's "Three Little Birds"
Maka's Favorite Pastimes:
Playing with anything that has feathers and bells!
Most Mischievous Behavior:
Jumping on my toes when I come around a corner.
If your cat could have one thing unlimited for the rest of time, what would it be?
Lots of snuggles!
Thank you for sharing your story, Darcy and Reggae!
Curious about the revolutionary litter that's giving these cat parents real peace of mind? Try PrettyLitter today!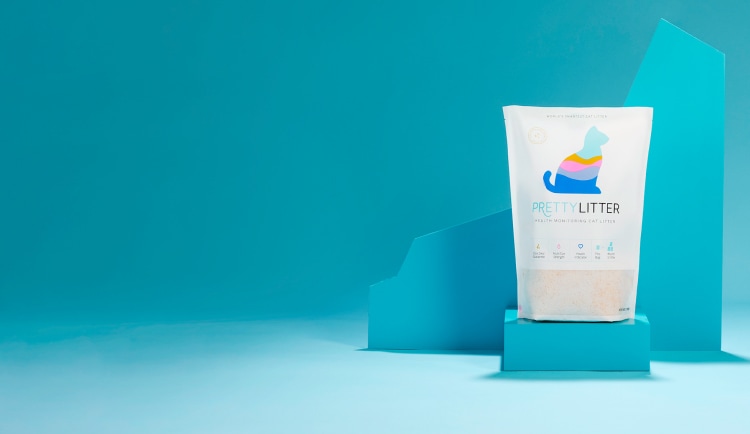 Tired of your
home smelling like
you have a cat?
Use code PRETTYBLOG