January 26, 2022 |7 min read
February Cool Cat of the Month: Meet Jamie!
---
Cat Litter That Prioritizes Their
Health & Your Happiness.
Get 20% + a Free Toy
Use Code PRETTYBLOG at Checkout
for 20% Off + a FREE Catnip Toy
---
We talked to PrettyLitter subscriber Aiden S. about Jamie and here's what they had to say:
Pretty is taken to a new level when it comes to one particular fluffy model who knows that she is, indeed, pretty. This is the story of Jamie, an 18 year old Mainecoon who would probably claw my eyes out if she knew I told anyone her age. 
I was 8 years old. My family and I found ourselves at a cat show in New Jersey in the spring of 2003. I remember wandering around, watching people fondle over their precious furry friends. I sighed, a heavy weight knocking at my heartstrings as I reminisced over the passing of my furry friend JC, my age equivalent cat brother who had been sadly taken from us too soon.
I continued following my family, slowly dragging my feet, staying just behind my middle sister. Suddenly, her feet stopped moving and so did mine. Small mewling broke the air. I turned my head to see three furry faces watching us from inside a large metal cage. My family approached them, our somber mood lifting as six small glowing eyes looked up at us. Two of the kittens were white, one with large black spots and the other with a black blob on his head split into two parts that looked kind of like a fancy hair cut or a tupé. 
"Would you like to hold any of them?" Asked a man working the show. 
My oldest sister picked up the black and white kitten in her arms; I gave him a few pats on the head and smiled. Soon after we adopted him and named him Joey. Another family picked up the kitten with the tupé. Suddenly, my eyes locked with the last fluff ball in the cage. She was standing on her two back paws like a person, her back was against the cage and she stared directly at me. I approached the cage. "Hi" I said aloud. She gazed at me with her gorgeous bright green eyes and blinked slowly at me. That was the moment I knew she would be mine forever. 
Now, 18 years later, I live in an apartment with Jamie, the best fluffy diva daughter a cat dad could ask for. Jamie is the queen of sass. She walks with a strut and flicks her tail around her body with cattitude. Age is just a number to Jamie; still running around my apartment like a squirrel and playing with her favorite toy, a glowing ball that spins around a circular scratcher, nothing stops her from living her best life. She even made up a game where she starts at one end of the room and runs up to the scratcher ramming into it at full force so that it slides around on the wooden floor. She then grips onto it with her front two paws and goes along for the ride.
Jamie is a natural model and I'm serious when I say that she poses on command. Don't believe me? I have an entire story series that features it on her instagram @JamieThePrincessCat. Purrrfect for a diva like her, I happen to be a photographer that photographs models in my apartment. This excites Jamie, though sometimes I think that she believes that the photo sets are made for her. Often while working my camera, Jamie takes over as the star. Interacting with my models and enjoying the extra attention, Jamie always strikes a pose and shows off her natural beauty. She's a "fancy cat" and she knows it. I mean come on, if I don't give her Fancy Feast she meows and complains because no meal can compare.
As much as she is a Diva, Jamie also has a kind heart. As soon as I come home she meows and runs over to greet me. At night I say "Jamie bedtime!" and she races into bed and curls up next to me and purrs me to sleep. She always comes when called and enjoys bathing my face with her sandpaper tongue. She's a true angel and makes me the proudest cat dad in the world. I am so fortunate to have her in my life and I am thankful for her friendship every single day. I love my cat, and I know she loves me too.
One Fun Fact About Me:
Jamie loves to be photographed. When I say "Jamie pose" she sits up straight, puts her head up, puffs out her chest, puts on her cute diva eyes, and poses for the camera. 
Jamie's Favorite Pastimes:
Following me everywhere, prowling for attention, taking her energy out on the round scratcher with the spinning light up ball in the middle.
Most Mischievous Behavior:
Jamie is the best at the innocent game. If she tries to steal food and eat something she is not supposed to, she looks up at me with innocent eyes as though she has never done anything wrong in her life.
If your cat could have one thing unlimited for the rest of time, what would it be?
For sure, ice cream. She lives next to the freezer hoping to get the smallest speck of a vanilla bean treat. Good thing she is unaware of what an ice cream truck is or I would be in trouble.
I also want to dedicate this story to Joey, my fluffy boy who unfortunately passed away in 2011. I love you boy, and you are truly missed. 
Thank you for sharing your story, Aiden and Jamie!
Curious about the revolutionary litter that's giving these cat parents real peace of mind? Try PrettyLitter today!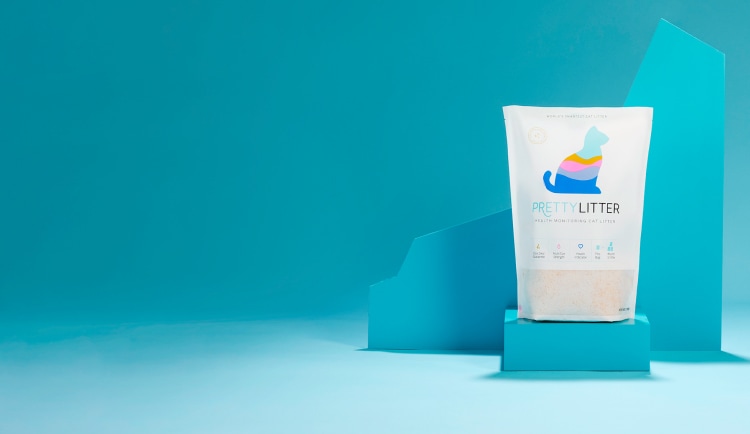 Tired of your
home smelling like
you have a cat?
Use code PRETTYBLOG