December 11, 2019 |6 min read
DIY Gifts for Cat Lovers to Spoil Kitty This Christmas
---
Cat Litter That Prioritizes Their
Health & Your Happiness.
Get 20% + a Free Toy
Use Code PRETTYBLOG at Checkout
for 20% Off + a FREE Catnip Toy
---
Let's be real here... Our furry friends are at the tip-top of our Christmas shopping list. And you know what? We wouldn't have it any other way. This Christmas, we're going down the DIY route. The best gifts for cat lovers are ones that you can make at home and share with your fur baby this holiday season.
As always, your cat's health is at the top of our priority list. While you're whittling away making your DIY gifts this year, be sure to keep your kitty away from certain items like ribbon and fine string this season. The last thing anyone wants is for a holiday celebration to be ruined by an emergency trip to the vet.
That being said, let's get back to the good stuff.
Here's everything you need to know for crafting the best and brightest gifts for cat lovers this Christmas season that will last them long after the holiday decorations have been taken down.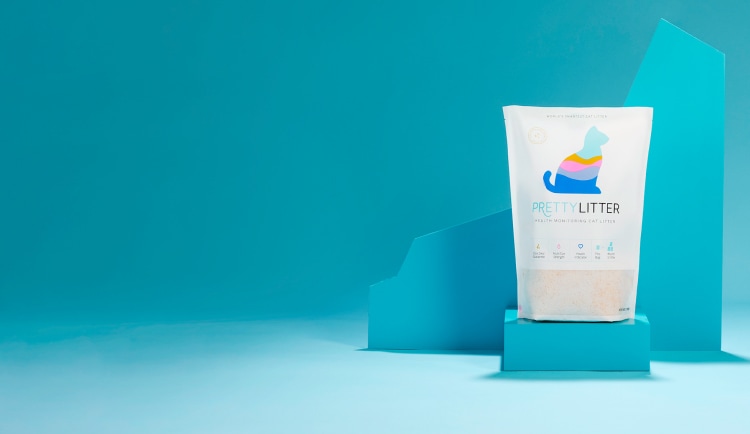 Tired of your
home smelling like
you have a cat?
Use code PRETTYBLOG
Gifts for Cat Lovers, Made Simple
Don't forget, cat lovers: sometimes the best gifts are the ones that are made at home with love – especially for our feline friends who seem to prefer the simpler things (like the box that fancy cat toy came in).
Posting Up
What better way to show your cat some love this season than giving them a perfect place to indulge their natural urge to scratch?
Not only is this DIY scratching post a fun craft to create, but your cat with absolutely love digging her claws into it while your couch and rugs thank you.
For added seasonal fun, try making it with holiday-themed yarn for a fun Christmas twist.
Whack-A-Cola
Have extra soda boxes laying around after all the holiday festivities? We've got a great way for you to recycle those and make a fun and festive gift for Fluffy.
This DIY soda box cat toy brings back all the nostalgic fun of the arcade game Whack-A-Mole while giving you and your family – including the four-legged family members, of course – hours of good, clean fun.
Bonus points if you can find a red or green soda box and dress Fluffy's new toy up with some festive frills. Get the kids involved and make it a fun family activity.


Sweater Weather
Despite their super-plush coats, cats can get chilly in the winter months, too. What better way to warm them up than to create a homemade holiday sweater and put it under the Christmas tree for Fluffy to unwrap?
Have a stash of miscellaneous fabric scraps or a pile of clothes that just haven't made it over to Goodwill? Pick out an old sweatshirt that you can breathe new life into via this cat sweater.
Of course, if you're taking a family photo this holiday season, be sure to make Fluffy's sweater match the family color scheme so she can grace the cover of your cards, too.
Gingerbread (Wo)Man
When the Gingerbread man says, "You can't catch me, I'm the gingerbread man!"; your cat is thinking, "Oh yes I can."
This plush gingerbread man toy is a DIY gifting dream – and it holds a surprise second gift for your kitty inside. Fill this toy with catnip before sewing it closed for a little extra excitement for your feline friend.
Soon, Fluffy will be relaxing in catnip bliss after batting her new felt friend around for hours on end.
Treat Yo'self
Humans aren't the only four-legged friends who get to enjoy homemade treats during the holidays. In fact, your kitchen can be the epicenter of all your DIY gift making this year.
For instance, here's a recipe for delicious homemade cat treats that your kitty will beg for every year. It's a fun way to get your bake on while also making your cat something to purr about.
A quick note to make sure we're keeping things fun this holiday season: always check with your vet before giving your cat any new treats – just in case.
Ball Out
Do you have a craft drawer filled with leftover yarn? Don't worry... you're in good company, if so.
Fear not, expert crafter and cat lover! You can use that leftover yarn to create the perfect, easy-as-apple-pie gift for your cat this Christmas.
This catnip-infused yarn ball toy combines all your cat's favorite things: catnip, yarn, and a perfect faux-prey to bat around.
Hang Loose
Looking for something to take up an afternoon on a cozy snow day? We've got you covered. This DIY hanging cat perch is a tad bit more involved and is the perfect project for recruiting the whole family to spend some (non-screen) time together this season.
The icing on the cake? You and your loved ones will enjoy watching your cat lounge around in perfect Insta-ready poses with the gorgeous winter backdrop just outside your window.
Whether it's a DIY win or a #PinterestFail, we want to hear about all of your DIY creations for cats and cat lovers from holidays past and present! Snap a pic and tag us on Instagram @PrettyLitter.