December 25, 2019 |6 min read
8 Wonderful Holiday Stories For Kids Featuring Felines
Sure, Twas The Night Before Christmas is a classic holiday read, but around here we like to see our kitties represented in holiday stories for kids from time to time. When spending time with your little ones this holly jolly season, mix up the rotation and toss in a few feline-featuring fables.
If you're looking for funny, adorable, and heartwarming cat stories and movies to share with your little loved ones this holiday season, we've got you covered.
Get ready for the purrfect season of cozying up on the couch with your four-legged and two-legged babies with these fabulous stories.
Cat Stories For Kids
No matter how digital our world gets, nothing beats a good book. Here are four wonderful cat stories for kids that your kiddos will be asking for year after year during the holidays.
The Cat Who Ate Christmas
Jingles the cat is eating way more than treats this holiday season.
The Cat Who Ate Christmas is the story of a naughty kitty who runs away after getting in oodles of trouble for nibbling on his family's Christmas dinner and opening the gifts under the tree.
Your little ones will get a big laugh out of Jingles' mischievous antics – and also a big holiday smile at the story's warm and fuzzy ending.


The Twelve Days of Christmas Cats
One of the most fun aspects of this cat-ified version of the Christmas classic is the beautiful illustrations. In The Twelve Days of Christmas Cats, you'll find pages and pages of drawings of different cat breeds that will hold your little ones' interest until the very last page.
We also love the cheeky plays on this holiday story – all involving cats, of course – such as "seven Siamese singing."
You and your kiddos will have a blast trying to spot your own kitty in the pages of this fun twist on a Christmas classic.
Merry Christmas, Splat
We all remember what it was like to be little and agonize over whether you were on the naughty or nice list. Among our favorite stories for kids is the purr-worthy book, Merry Christmas, Splat.
In this story, we meet Splat the Cat, a kitty who is wondering where he falls on Santa's list.
Will Splat figure out if he's on the naughty or nice list in time for Christmas? You'll have to curl up by the fire with your little ones to find out.
Pete the Cat's 12 Groovy Days of Christmas
This cheeky, quirky take on the traditional Twelve Days of Christmas story is one of our favorite holiday stories for kids.
Pete's version is a funny, feline spin on the classic, and your kids are sure to have some belly laughs singing "five onion rings!!!" at the top of their lungs together.
---
Cat Litter That Prioritizes Their
Health & Your Happiness.
Get 20% + a Free Toy
Use Code PRETTYBLOG at Checkout
for 20% Off + a FREE Catnip Toy
---
Cat Movies for Kids
Sometimes we all want a wholesome, family movie to enjoy together on the couch. This holiday season, enjoy bonding over fun feline adventures with these four amazing movies.
The Cat in the Hat Knows a Lot About Christmas!
One of the best ways to spend chilly nights during the holiday season is curled up together in front of a movie. Now, the Cat in the Hat and his friends, Nick and Sally, are back just in time for Christmas!
In this holiday musical movie for kids, the fearless trio is on a quest to help a baby reindeer get home before Christmas.
The Cat in the Hat Knows a Lot About Christmas! is the perfect movie to pop on for the family while you whip up a batch of fresh Christmas cookies or create homemade garlands for the tree.
Felix the Cat Saves Christmas
Any character that spans generations of holiday fun is a good one in our book. First appearing in 1919, Felix the Cat is one of the oldest cats in pop culture – and we're thrilled he's still entertaining us all!
Felix the Cat is back and playing the role of the hero in this Christmas movie for kids. In Felix the Cat Saves Christmas, Felix must stave off the world's biggest blizzard at the North Pole, which the Professor and Rock Bottom have conspired to cause.
Your little ones will be on the edge of their seats waiting to find out if Felix pulls it off!
Grumpy Cat's Worst Christmas Ever
Grumpy Cat is a national hero, in our book. Even though he's no longer with us, his Instagram posts, memes, and (now!) movies are still delighting us all.
In Grumpy Cat's first original movie, Grumpy Cat's Worst Christmas Ever, our beloved sourpuss lives in a pet shop and is constantly getting passed over in favor of, well... perkier kitties.
However, there's one twelve-year-old girl who sees Grumpy Cat's magic and sets out to make this Christmas his best Christmas ever.
The Nine Lives of Christmas
Hallmark movies have nothing on this big-hearted feline film. The Nine Lives of Christmas is the story of a holiday matchmaker who just so happens to be... a cat!
Taking note of the heart-wrenching goodness, the Hallmark company did, in fact, make their own version, which aired in 2014. So you tell us: which version gives you all the feels?
No matter how you spend your holidays, these Christmas stories for kids will appeal to the cat lover in all of us.
Have a favorite festive feline book or movie of your own? Tell us about it in the comments below!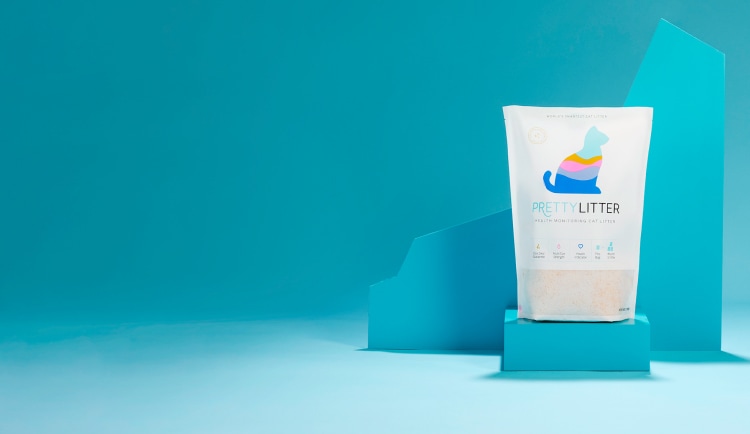 Tired of your
home smelling like
you have a cat?
Use code PRETTYBLOG